Solidarity with Kobane and the Rojava Revolution!
Shiraz Socialist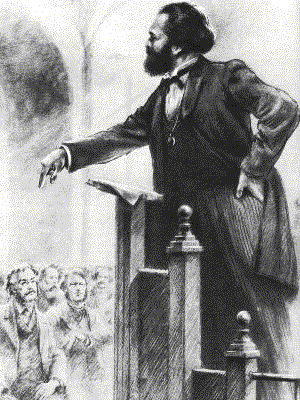 By johnj
(right: Marx addresses the inaugural meeting of the First International)
150 years ago today  the First International (the 'International Working Men's Association' ) was in founded in London by the likes of Marx, Engels and Bakunin. It earned establishment hatred for its support for the Paris Commune in 1871.
Today, in Kobanê, northern Syria, Kurdish women and men are heroically resisting the barbarous forces of ISIS – with almost no international support.
Don't believe the media hype about US air strikes – in Syrian Kurdistan these have so far been minimal and ineffective, unlike in Iraqi Kurdistan where US jets have protected Erbil, a city of Western consulates and oil companies.
ISIS in Syrian Kurdistan is using US tanks and heavy artillery seized when it captured Mosul in northern Iraq. It spreads inhuman terror: when these mercenaries captured one Syrian Kurd village last week they decapitated a disabled…
View original post 67 more words